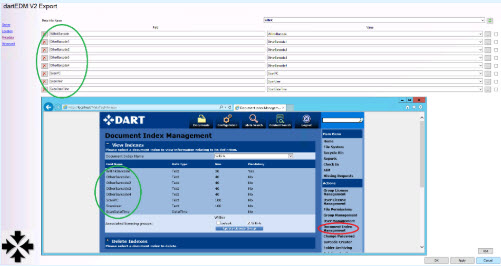 After logging into dartEDM, select "Document Index Management" within the Actions menu (Far right).

Select "View Indexes".

A dropdown list will appear; select the relevant project group that is associated with the group in QSCAN.

You will then see a table that consists of 4 columns (Field name, Data Type, Size and Mandatory).

Compare this list with the details in the export config i.e. in QSCAN select the project group>project>export configs>dartEDM V2export.
- Within the Export Config window, click the "Configure" button and select the blue link "Metadata" (far left). If they do not match, this could be causing the barcodes to fail when exporting.